Report by Piers, page setting by Karim.

The National Labor Day holidays in China are seven days off for nearly the whole country. After much deliberating Karim Hubert and I agreed on a destination within twelve hours train ride from Beijing and Xi'an: Henan province!
This is arguably one of the least exciting destinations according to general opinion in China, but there Google Earth showed lots of green areas where we hoped to successively escape city and tourist attractions. After locating a large mountain range in South-East Henan, Hubert and I booked last minute 1st class sleeper tickets for Shijiazhuang, a third of the way to Luoyang, during which we talked real politics and cinema with a painter. We than had to move to the 2nd class hard seat wagon for the next 6 hours of the trip where we met a Wuigur who claimed to have fruitlessly paid 50,000 RMB to the police in the hope of getting a heroin addict friend out of prison. We arrived in Luoyang at 2am and waited for Karim to get in two hours later sipping coke and beer and turing down cab rides to the Shaolin temple in front of the train station. A quick glance at a map of Luoyang region and we had chosen our destination: Heyu in Luanchuan county. After this downward trip through several levels of Chinese society, we got on a 5:30am bus to Heyu and finally caught a much needed two hour nap!
Day one: the nap.
Arriving in Heyu around 8am we sipped up a lamb soup for breakfast and bought about two pounds of heavy breads for our hike. We headed out of town along the side road, where twice we were warned that ahead was a military zone forbidden to foreigners. We simply assured the police we would not stray from the main road and no further questions were asked.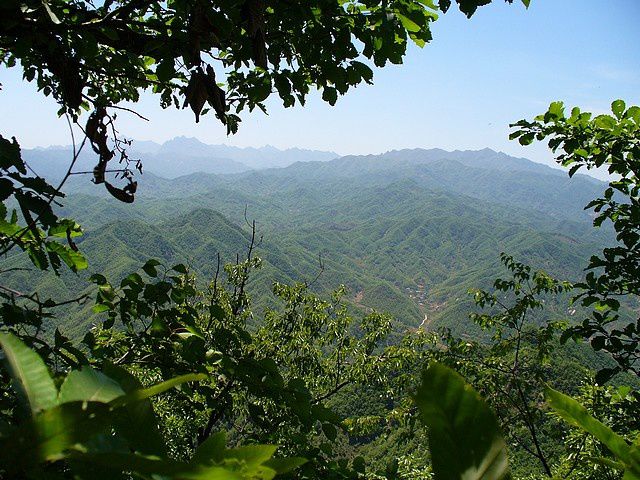 About a kilometer or so out of town we headed up a path into the mountains. Hiking up a green deserted path felt great after weeks of busy city life.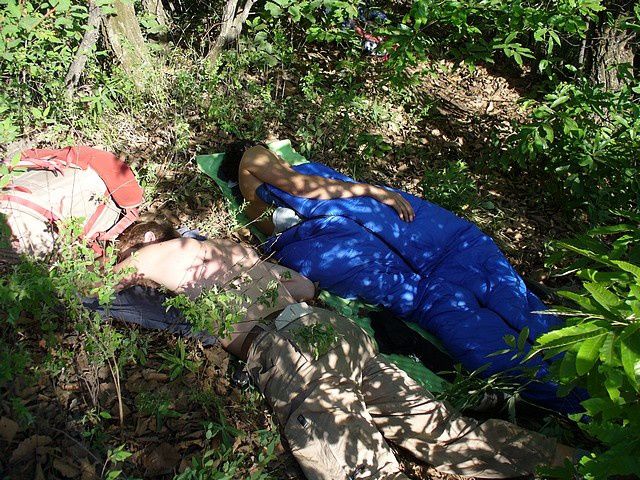 Around noon we got to the top of the hill and decided to eat some bread and take a quick nap. We lay down in the dead leaves in the cool shade and slept till 4pm!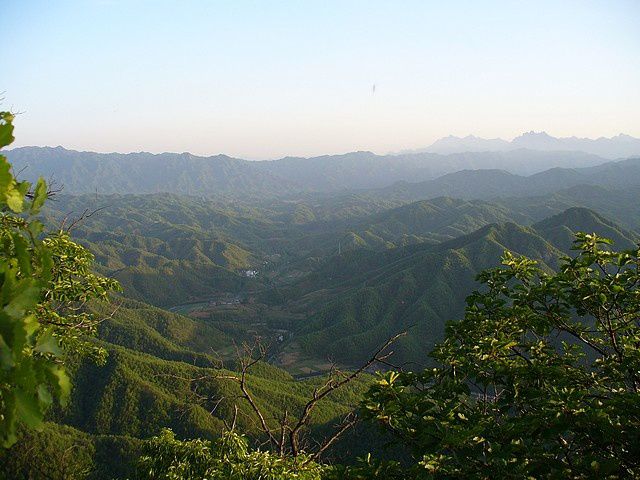 We continued wandering around the ridges and after two hours decided to settle down for the night.
Day two: the swim, part one.


Since we were basically lost in the forest and with limited water, we woke up relatively early and by 8 o'clock we were walking. The need for water and food dictated our choices and we head down a ridge that would take us to a village. Before the village, we rested and bathed in the river in the valley.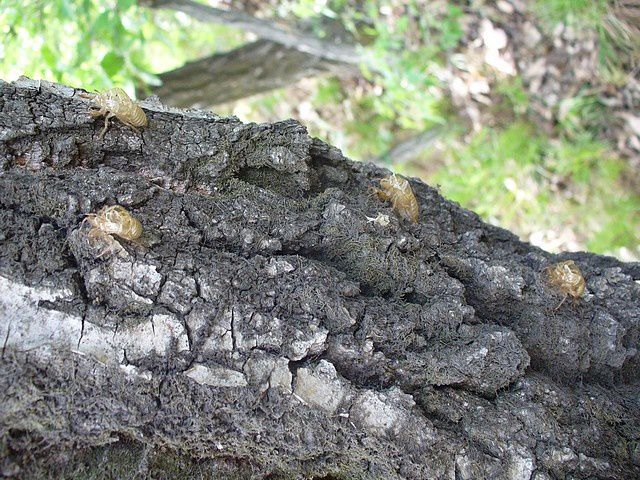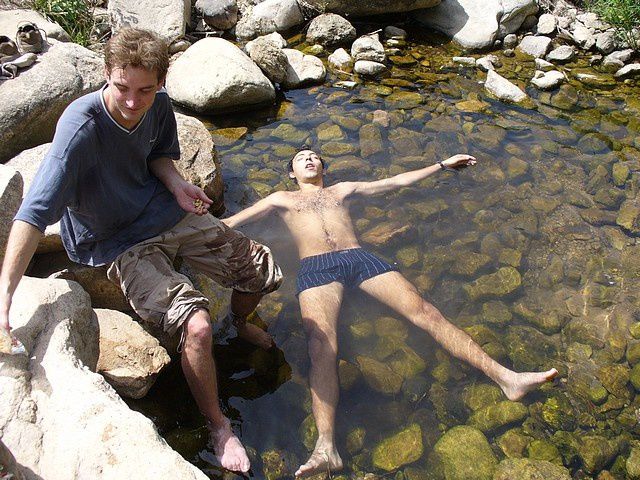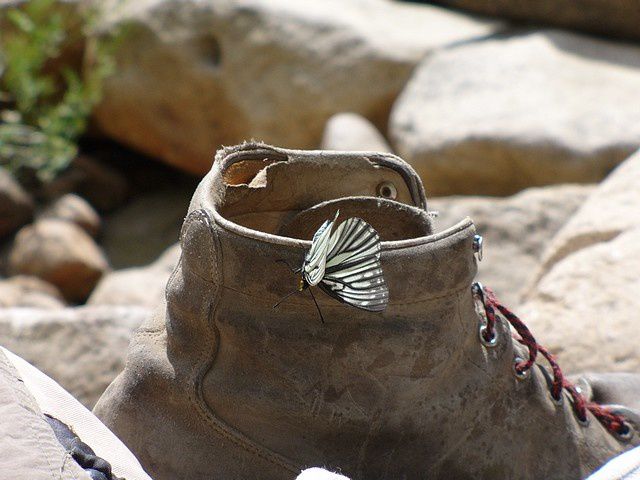 Strolling down the valley was much easier after this refreshing stop.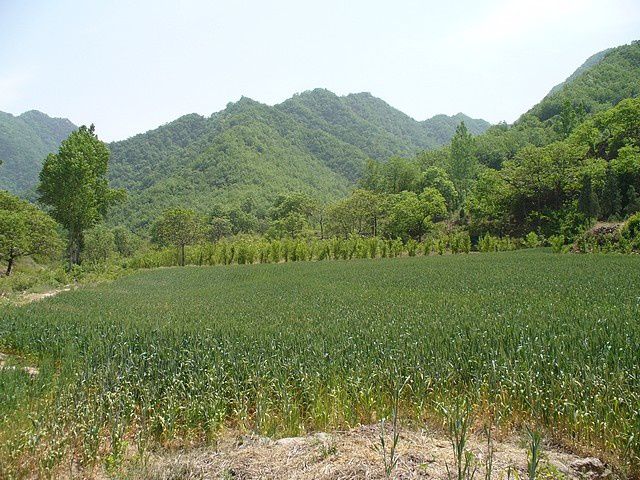 In fact, we were so refreshed we almost waked by this damn without testing the water.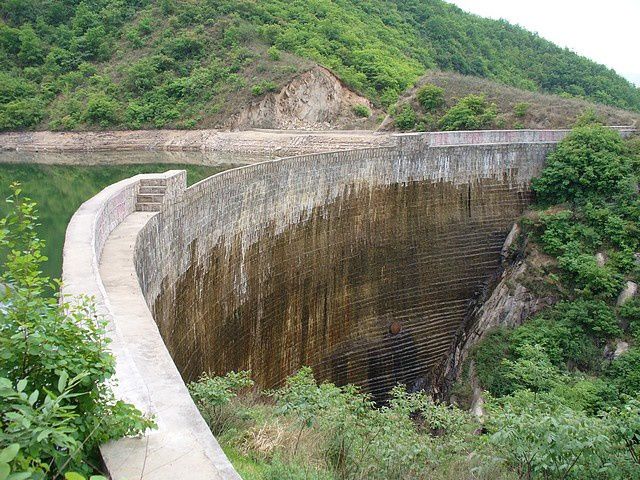 Fortunately we realized in time what a pity that would be, and we continued bathing and swimming in what had become a quite lazy morning!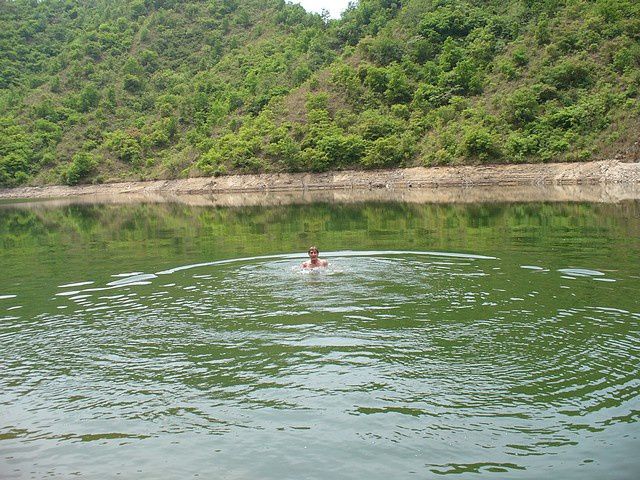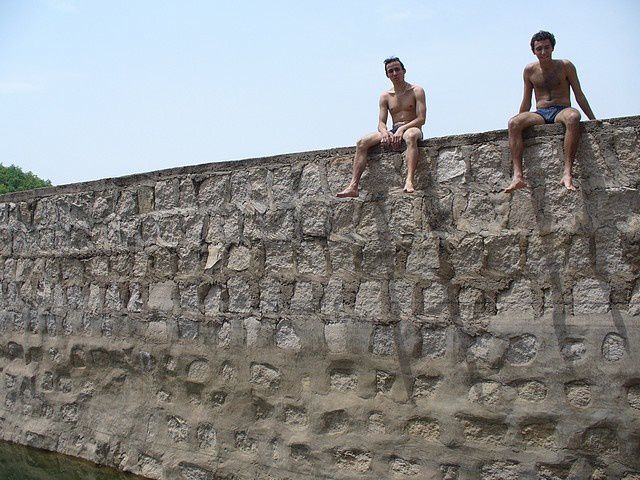 Continuing down the road we ended up back at Heyu early afternoon. We filled up on jiaozi (small boiled dumplings) and considered what our next option should be. The tallest mountain of the region, 君山 (Junshan), was only 20km away from Heyu, so we decided to take an evening bus for Junshan. Before starting up another mountain, we decided a good meal wouldn't hurt us, and we feasted on corean style barbecue. This of course lasted longer than planned and it was already nightime when we headed up the mountain. Nightfall helped us pass the official gate discretely and we fell asleep as soon as we had left all restaurants and KTVs behind us.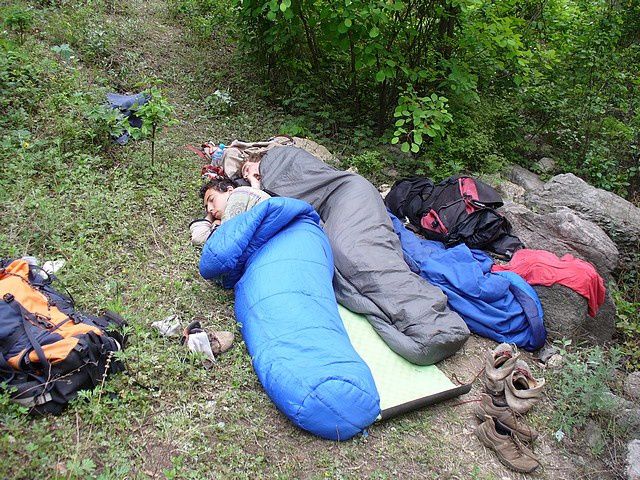 Exceptionally, Hubert was up before Karim and me.
Day three: trapped

Junshan mountain is about 2100m high, and we started at 900m above sea level in the morning. We got off to a pretty good pace which only kept up for about 3hrs. Around 11am a quick break turned into a 2hr chat snack and nap. After all we're on vacation.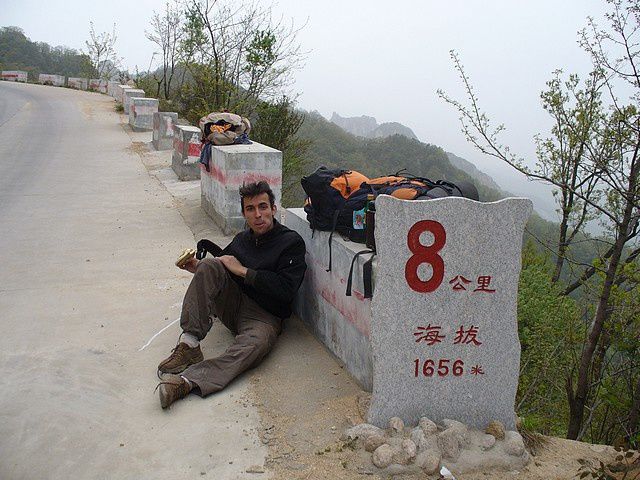 We weren't very far from the summit anyway, and fully rested we made it to the top pretty quickly. Even after years in China, one is often amused by what can be found at the top of a mountain.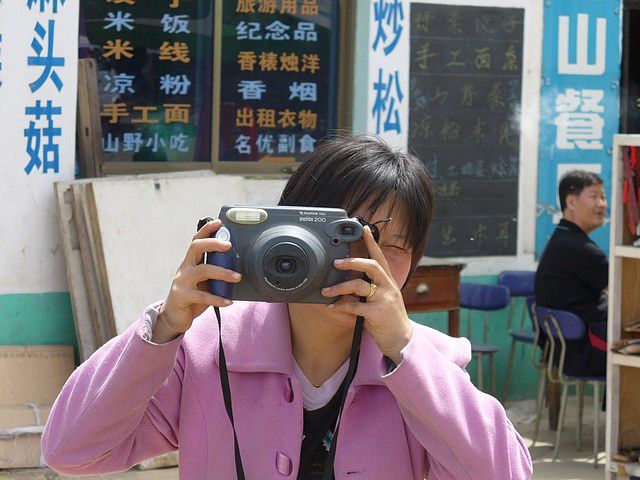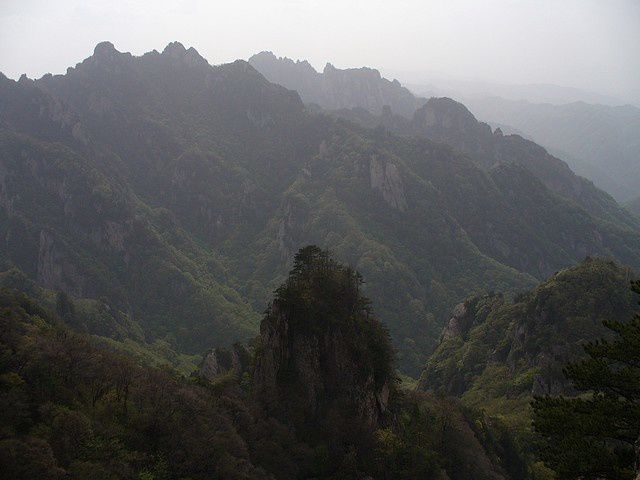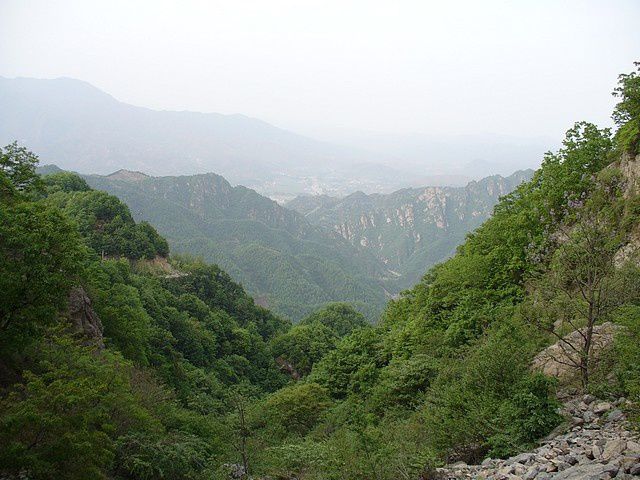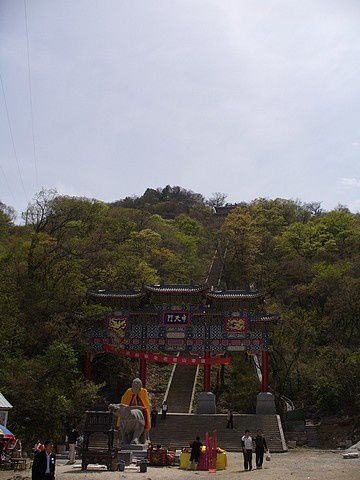 More surprising but less amusing was the fact that this mountain is forbidden to foreigners under the pretext of a military zone, a military zone with more slides and kids than militaries or guns.
The main access being well guarded, we walked up another set of stairs, which also offered quite an impressive view.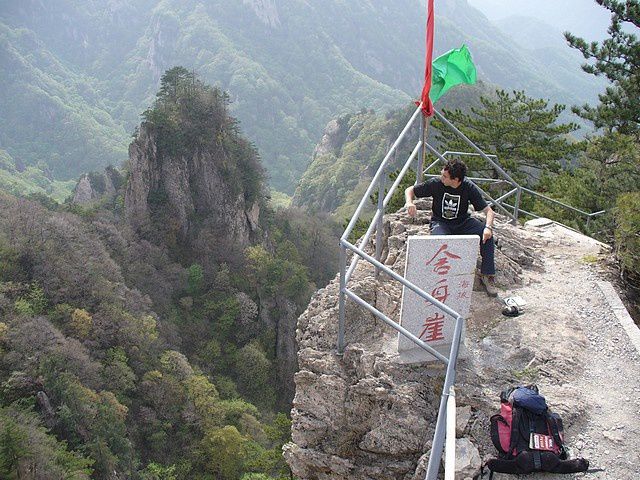 Unfortunately, once again a quick break turned into a nap, and we eventually got woken up by cops who escorted us down the mountain.

The local police simply put on us on a bus headed for Heyu (which is not more open to foreigners that Luanchuan, but is not their responsibility). We decided to get off in a small town and after a delicious meal of chicken fell asleep in the sand.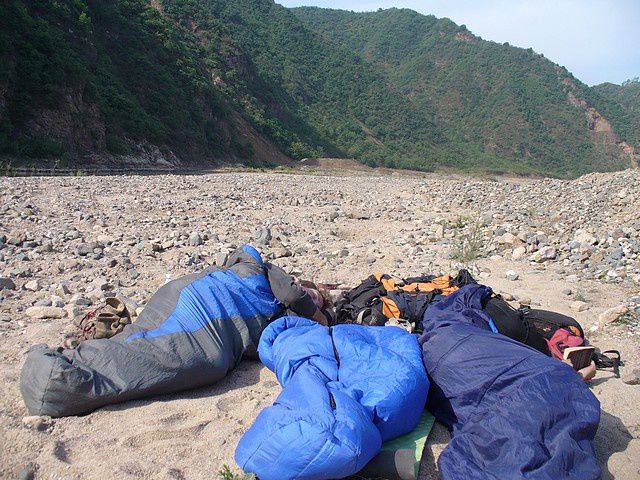 Day four: a golden welcome
We have now headed up two mountains but none of our adventures has been very long. Hubert proposes to head down a path across the river and see where it goes. That sounds like a plan, and after lunch, an ice cream or a cigarette, we head slowly down this road.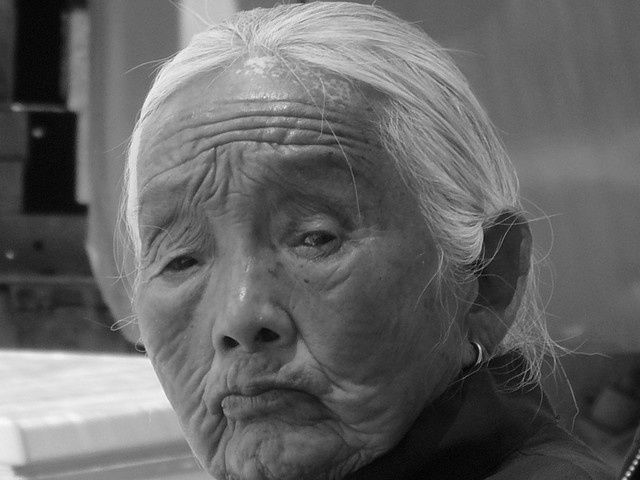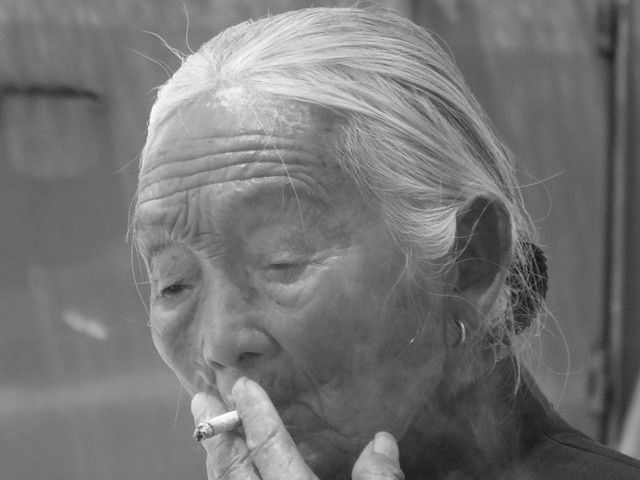 We are pretty sure that few tourist or white faces have been down this valley before us. Locals were usually slightly curious at first and friendly once contact was made. The main activity of the valley nowadays is mining, mostly for gold.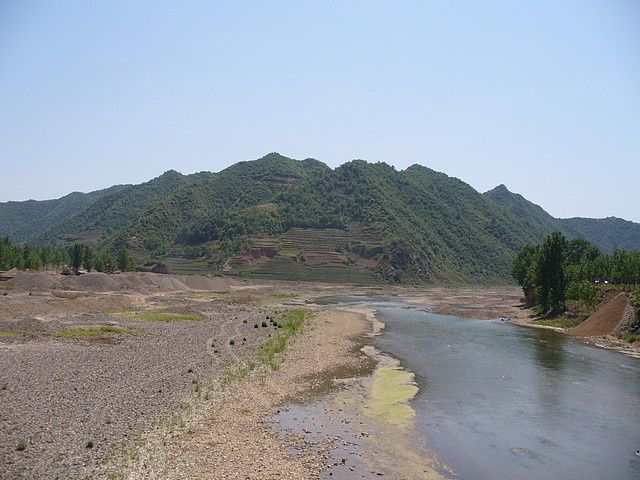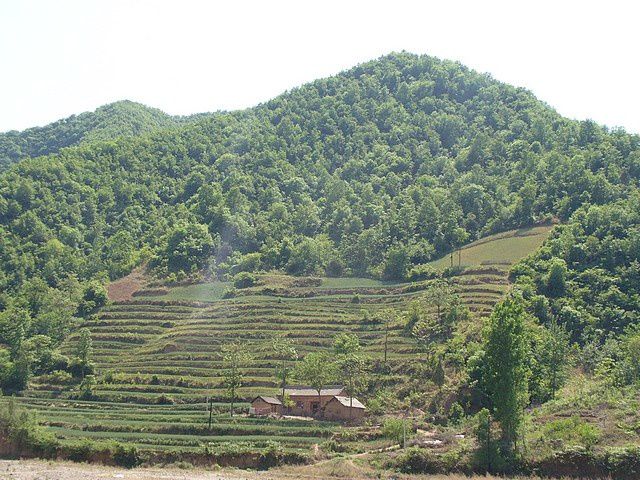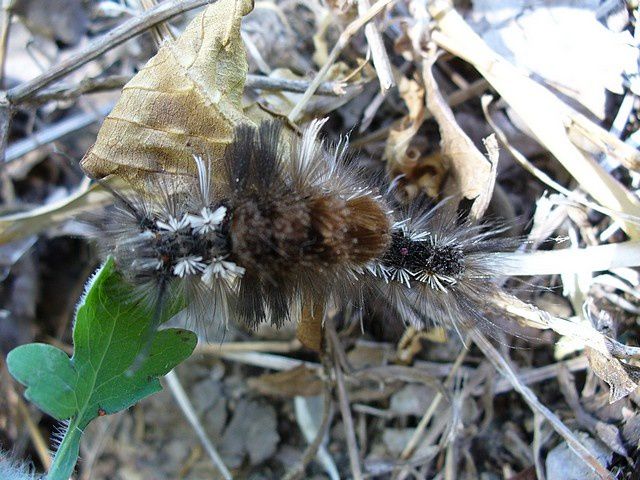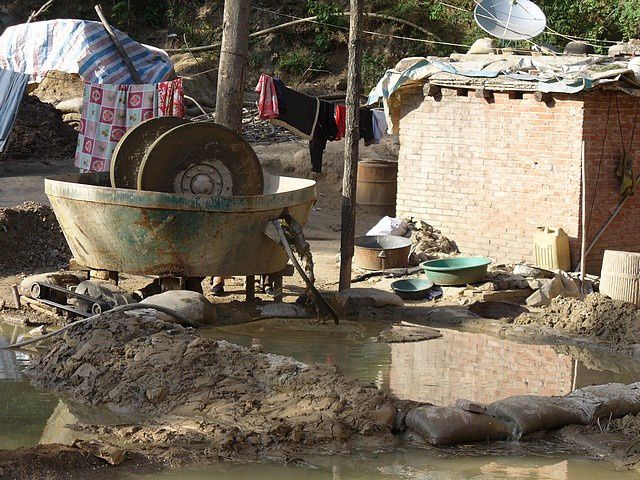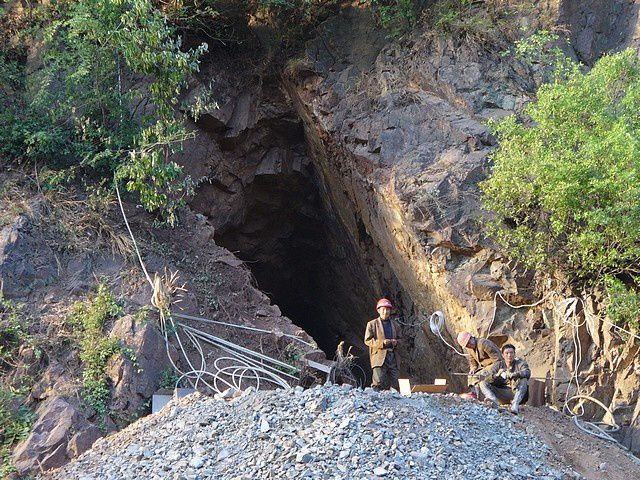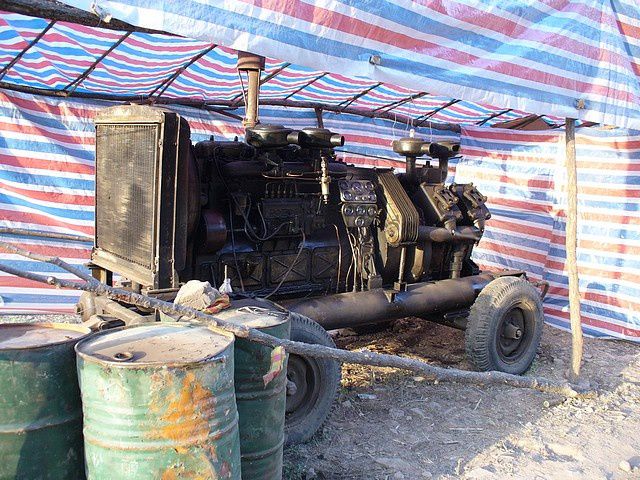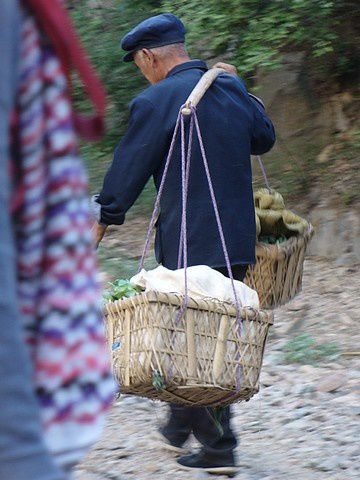 The mining activity eventually diminishes as we head up the valley. By constantly asking and guessing for directions, we have found out that there's a mountain somewhere not to far that is called Yangshan (洋山). This slowly becomes our goal, and around nightfall an old man kindly indicates that we just took a wrong turn, and walks us back down to the right path. He than insists on hosting us for the evening. After politely refusing a few times we gladly give in to his beckoning. We have supper with his wife and son. We eat a simple soup (Henan people are known for eating soups) along with mantou (馒头, Chinese bread) and a sauce that reminds me of aioli.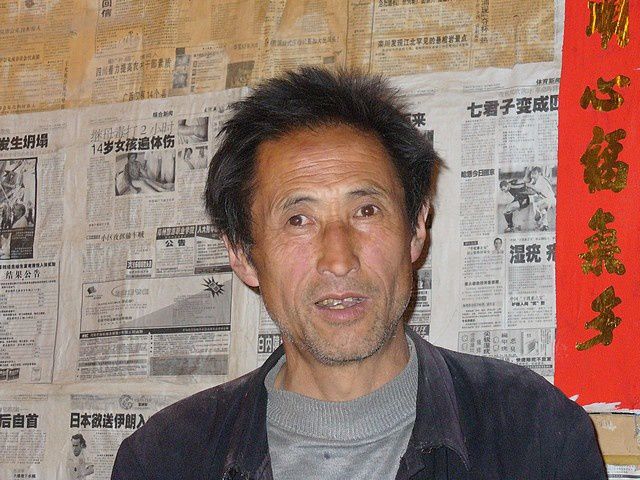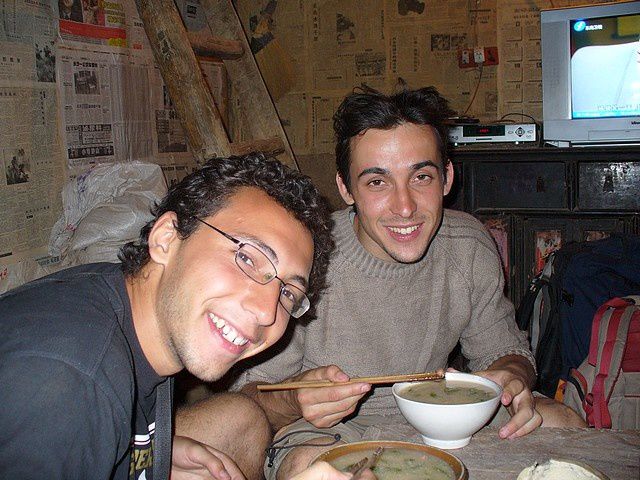 A very interesting conversation with the son teaches us a lot about the region. People are often quite eager to open up and tell their stories.


Day six: Hiking
Living with locals forces discipline upon us. We are asleep by 10pm and even Karim is up before 7 the next morning! We enjoy one last meal with are wonderful hosts and the old man offers to take us part of the way as he also has to go up to bring back a log.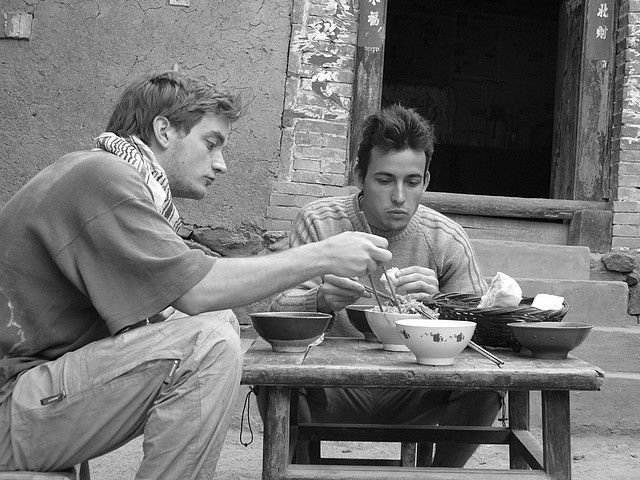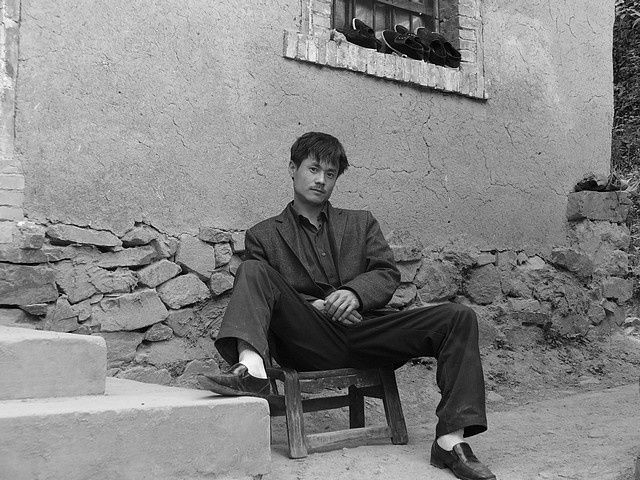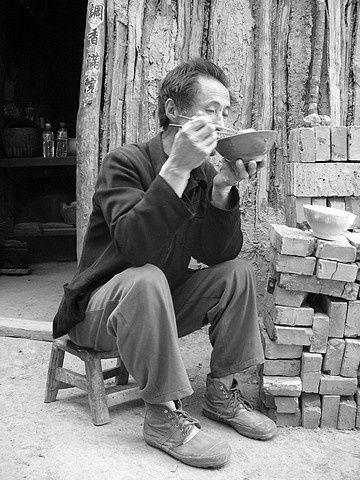 Our guide takes us up the mountain, paces by regular tobacco stops to catch his breath. He won't take any of our water though. Walking doesn't make him thirsty.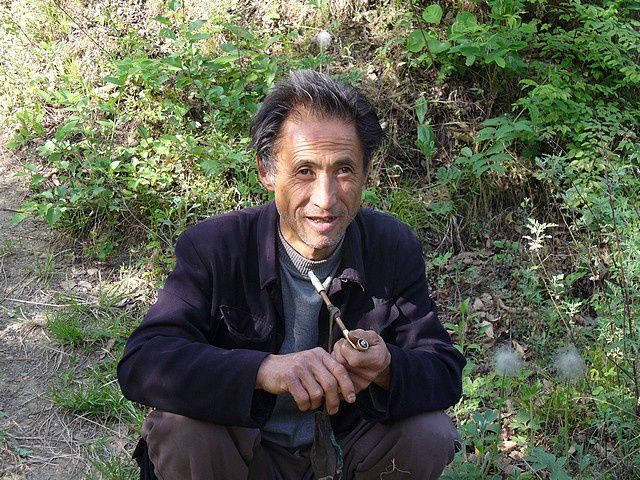 Finally it is time to part with our friend, he goes his way and we reach a pass which offers a view of the much famed Yangshan! It is not yet 10am and we are ready for hikes and adventures.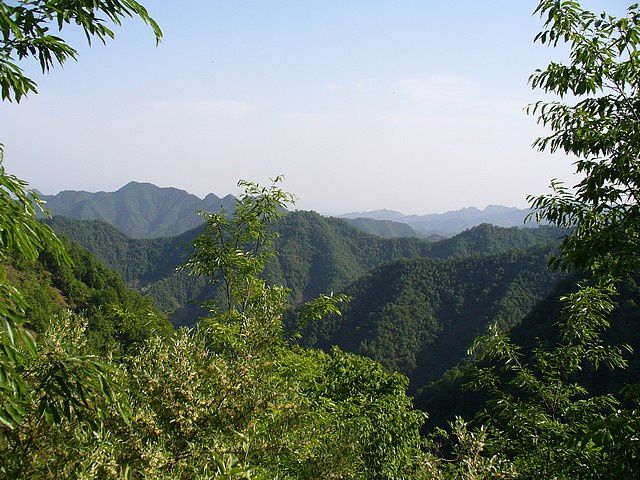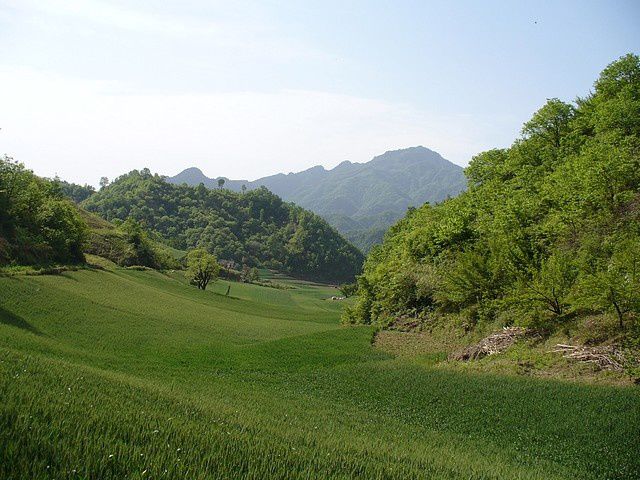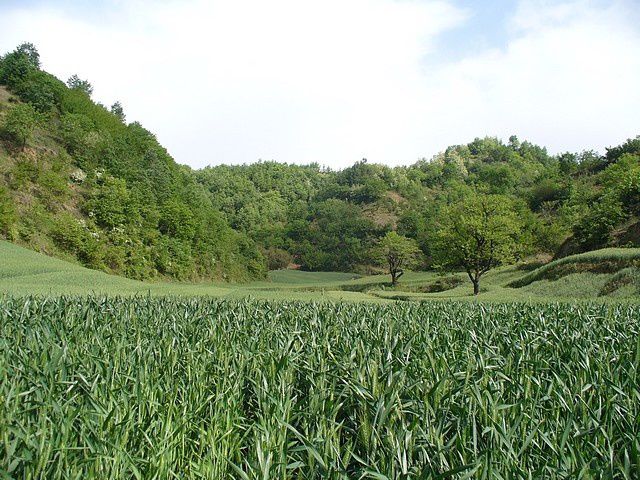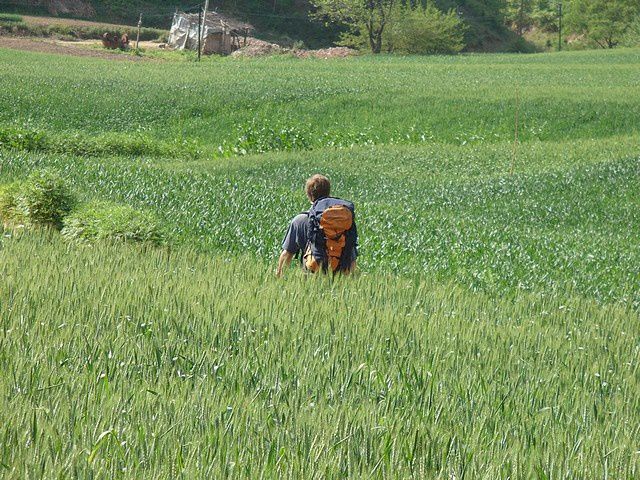 We walk down the valley that will takes to Yangshan. Everywhere everything is surprisingly green. Although the end of spring is always very dry here, rain will come in the summer.
Kids show off their pets, which they are even ready to bargain of to us.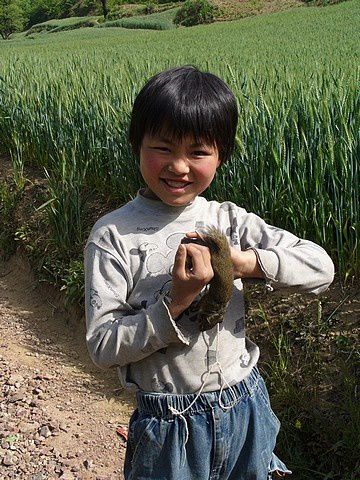 Around noon we get to the village at the junction of the valley we came down and the one we are about to climb. People here are amused by three foreigners trying to climb Yangshan, but the town square group is not very helpful giving us unclear and contradictory answers. They are willing to sell us a live chicken, but no bread can be found in the town.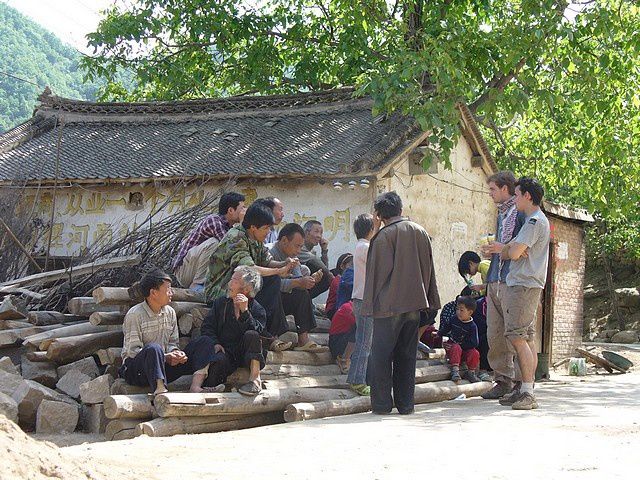 We walk out through the back of town, and although mantou cannot be sold, one very kind lady offers some to Hubert. Money is not accepted.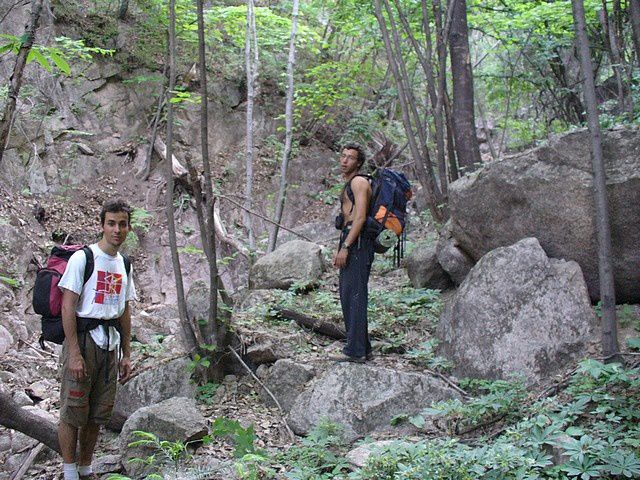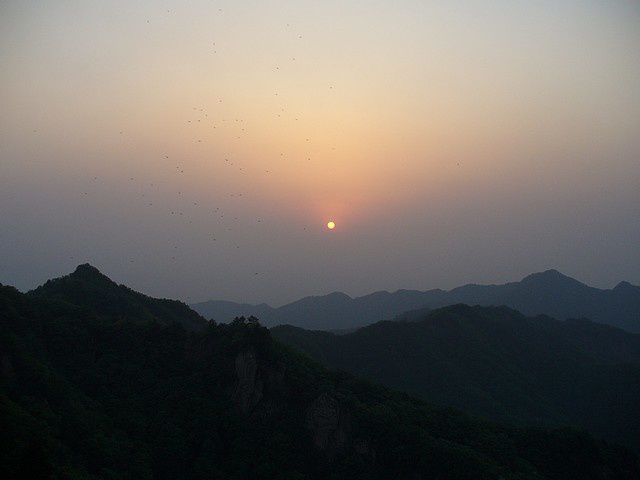 It takes us all afternoon to finally make our way through the forest up to the pass. We are delighted and watch the sunset from the nearest peak. We than fall asleep along the ridge; each one of us looking for a few square feet of flat land.
Day seven: the swim, part two
In the morning we make our way down the other side. Around noon we get to a paved road that we are told heads back to Heyu! The loop is nearly completed!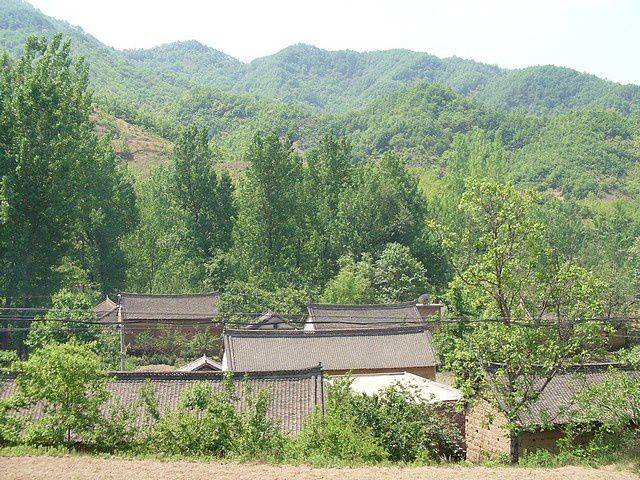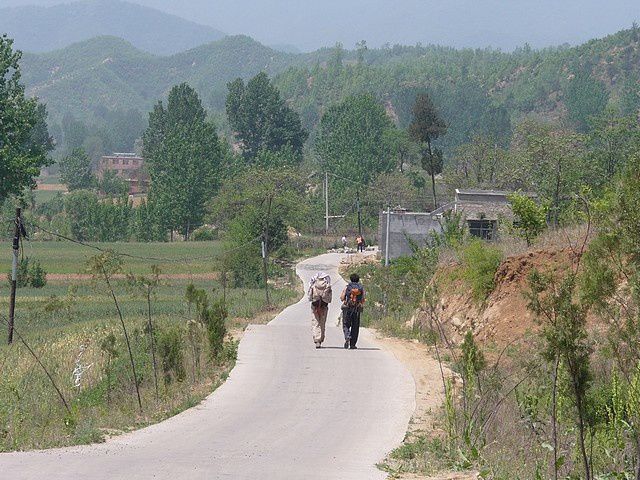 In Heyu we enjoy another Henan specialty, Huicai (烩采). This is a simple mix of boiled cabage, meat, and other vegetables. We even enjoy cherries for desert!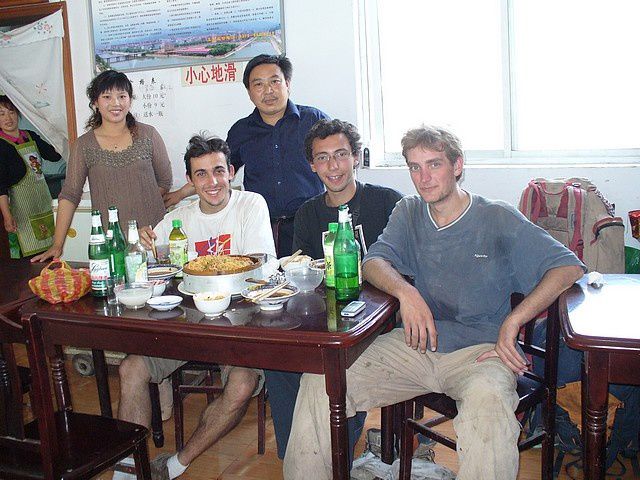 Back in Heyu, with a full stomach and one last day of vacations left, we head back to our favourite spot. The dam!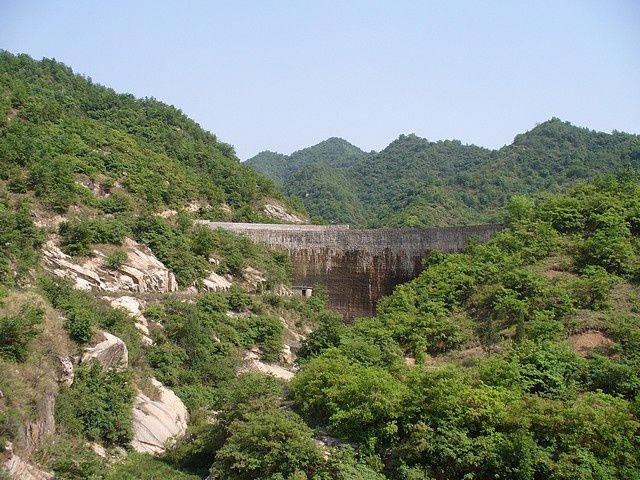 Shower time!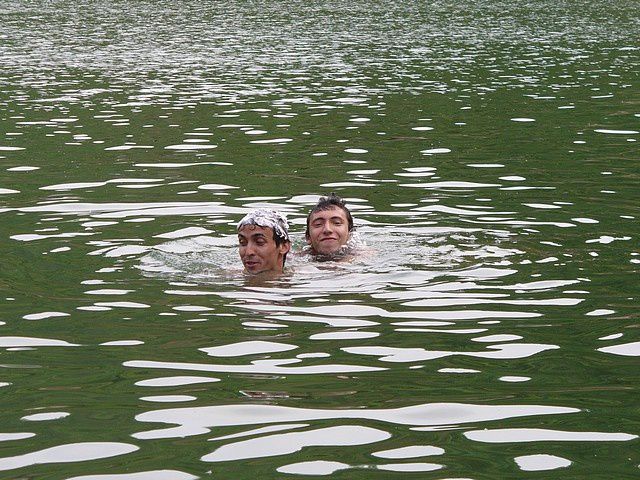 Hanging out on our dam.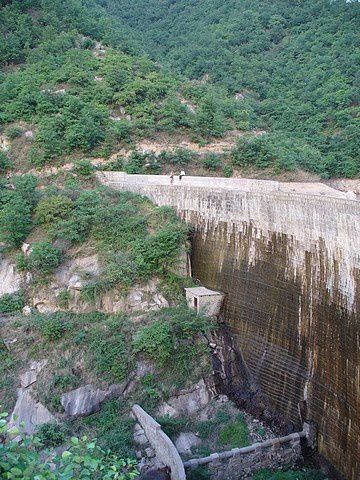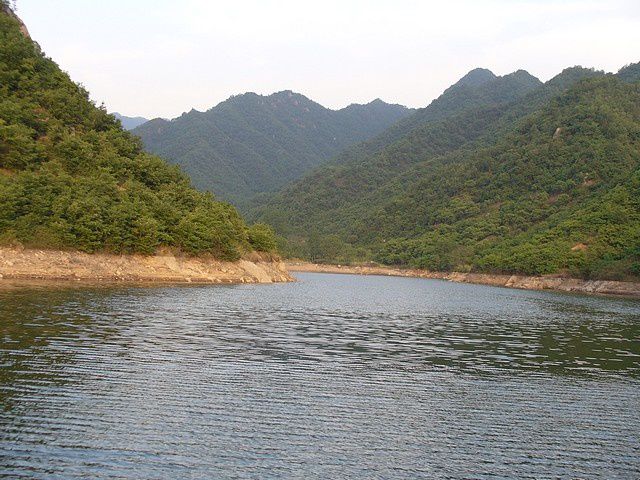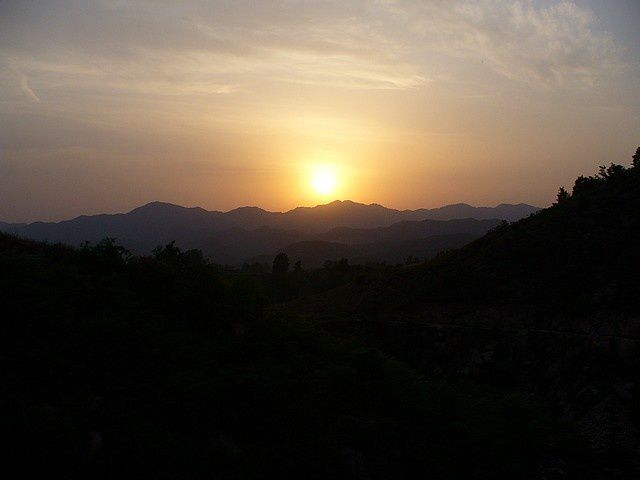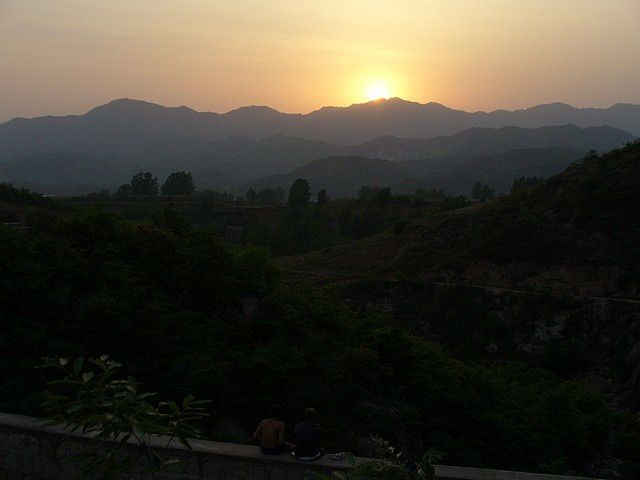 As the night falls we decide we'll get better food in town, so we walk back down, and find a roast meat place under the bridge. This is the hangout for all the local hipsters.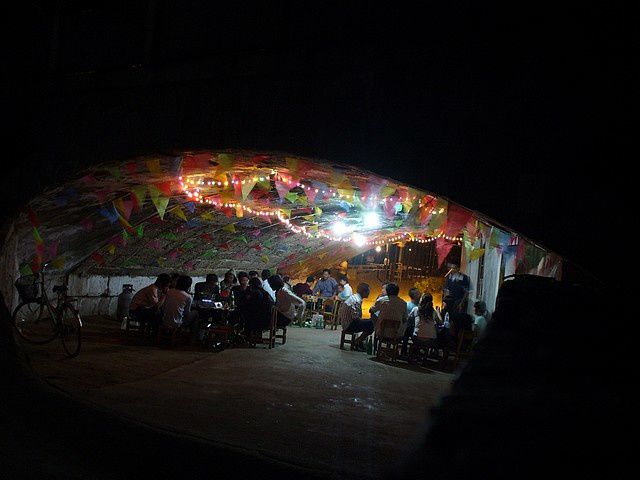 The last day
The previous evening we finally did find our way back to the good-ol'dam. We wake up slowly and take a few dives.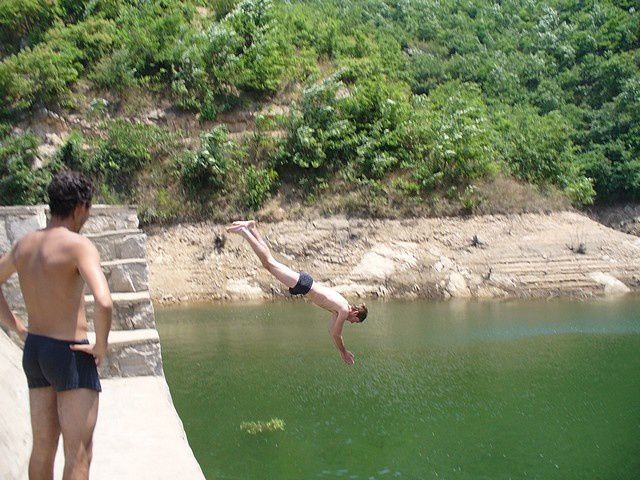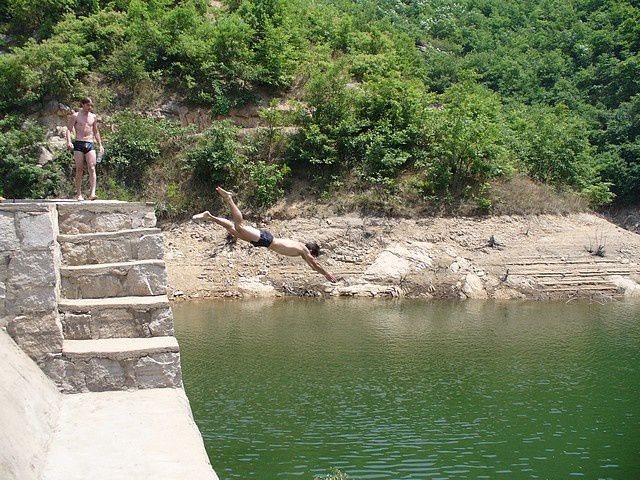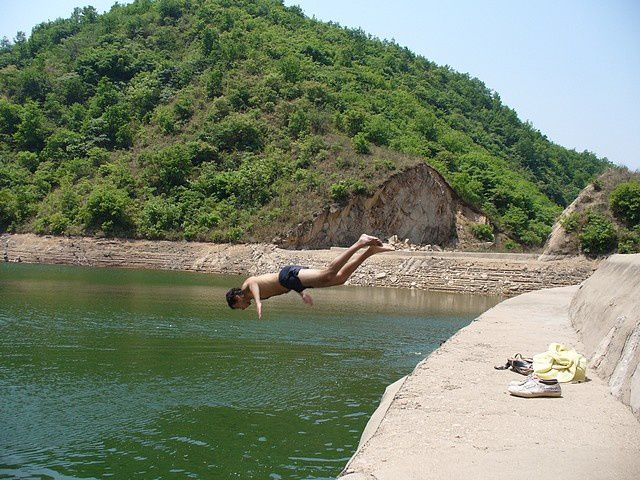 A local guy who's seen us several times up at the dam thinks we've been there for 48hrs straight, and that's cool with him.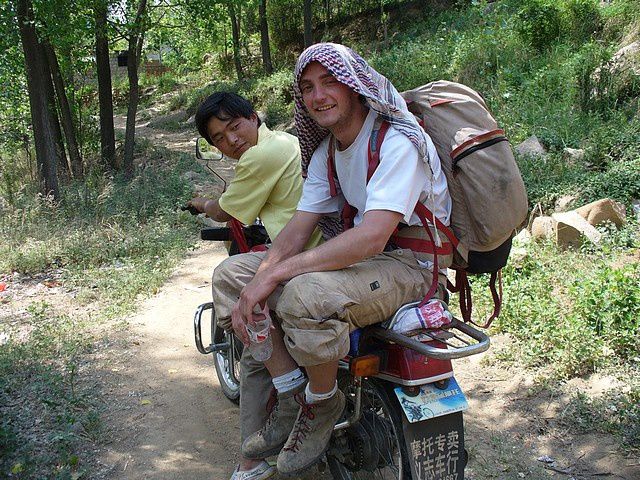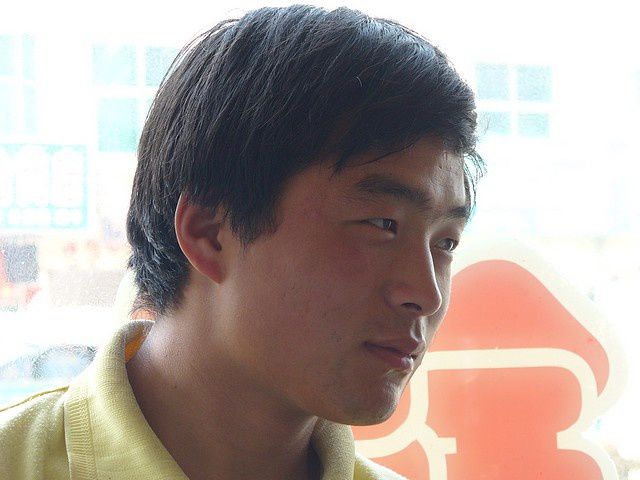 We share our last meal with this friend, before heading back to Xi'an (Karim) and Beijing (Hubert and I).
Annexes: